FAR EASTERN STATE UNIVERSITY
The construction of the former Commercial School was begun in response to the needs of Vladivostok's rapidly growing trade. Architect S. A. Vensan's project won a competition announced in St. Petersburg, and architect V. A. Planson laid out the site and fitted the building into it. Opened in 1912, Vladivostok's new Commercial School soon became a prominent landmark. Basically designed in art nouveau, it also has Gothic details. The stately and expressive fašade assumes a natural architectural integrity and independence, while the interior decor highlights certain geometrical forms. Decorative bricks matching in quality and color were used to embellish the building; this is the so-called rational manner of decoration.
From 1920 to 1939 the State Far Eastern University (later renamed Far Eastern State University, or FESU) was housed in this building. 1939 is a sinister date in its history: the university was closed, and the building was occupied by the NKVD (predecessor of the KGB, the Committee on State Security), notorious for carrying out the repressions of Stalin's era. When the university was resurrected in 1956, faculty members found bloodstained walls in the basement, which was rumored to have been used for police interrogations.
The only classical university in the Russian Far East--with branches on Sakhalin and Kamchatka, in several cities of Primorye, and in Japan and the People's Republic of China--FESU is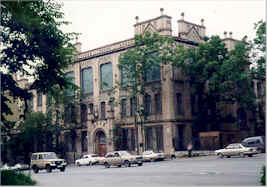 BI, 1998
FESU Main Building
the home of important research centers in chemistry, biology, marine sciences, physics, electronics, liberal arts, and other fields. FESU's 21 departments enroll more than 8,000 students each year; they study in 21 disciplines and receive more than 50 majors. The University offers intensive courses in Russian as a Foreign Language, and has developed an interdisciplinary program in American Studies. Presently, FESU successfully cooperates with universities, scientific centers and schools in Japan, the United States, Great Britain, Australia, the People's Republic of China, the Republic of Korea, Vietnam, and other countries. Finally, FESU was the first university in Russia to establish joint departments with American universities, e. g. the University of Maryland (business management) and Washington State University (environmental sciences). The graduates of these joint programs receive both a Russian and an American degree.
FESU has prepared many highly-qualified professionals for enterprises, schools, and other institutions of the Russian Far East. The university's teaching and research have been connected with the names of many outstanding scholars, scientists and public figures.