SEAMEN'S MEMORIAL
The Seamen's Memorial, unveiled in 1967 (sculptors O. Ikonnikov and V. Zverev, architects Yu. Vdovin and V. Tkhor), stands in a small square overlooking the steep slope of the Bay of the Golden Horn. It was erected to commemorate the seamen of the Far Eastern Shipping Company's Merchant Marine who were killed during World War II.
When the war began, the regular activities of the Far Eastern Shipping Company changed: now its ships were sent to the USA, Canada, Australia, New Zealand and other countries who were allies in the war, but whose regions were entirely new for the FESCO staff. Relations with the United States were especially close during WW II: beginning in the fall of 1941 (after the fascists invaded the Soviet Union), President Roosevelt rendered aid to the Soviets. The conditions of this aid were specified in the Lend-Lease Act, passed by the US Congress on March 11, 1941 to furnish war materiel and services to allies during WW II.
Half of the Lend-Lease assistance designated for the Soviet Union was carried through Vladivostok. The voyages across the Pacific Ocean were highly dangerous. There was no convoy to patrol the FESCO ships' route, and to ensure the safe passage of Lend-Lease supplies, guns were installed aboard these mercantile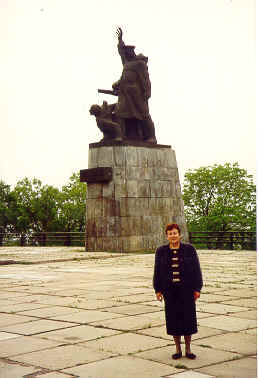 DM, 1996
vessels which had to go without any lights by night or any audio signals in the fog. Through the war, FESCO seamen suffered heavy casualties: 340 persons were killed, and 24 ships were sunk.
In the center of the Seamen's Memorial, on the polished gray granite pedestal shaped in the form of a ship's wheel-house, three figures are grouped around a gun: the captain is giving his last order. The memorial's twenty-four bronze plaques--adorned with the outlines of the ships--bear the names of all the FESCO seamen killed during World War II. An eternal flame in front of the monument is a strong reminder of these men's heroic exploits. The whole complex expresses Vladivostok's great gratitude to and admiration for the seamen of the Merchant Marine.