SC 9
Howitt and Hills prints
Collection, 1798-1816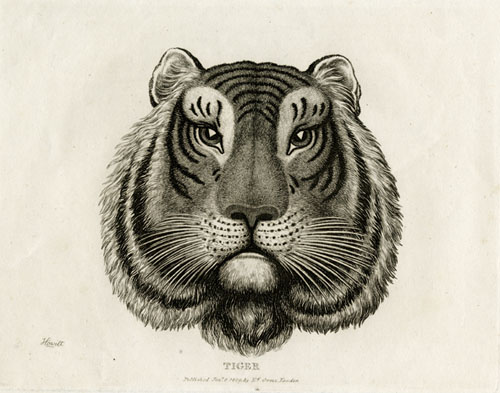 Tiger by Samuel Howitt, published by Edward Orme, London, 1809
Acquisition And Processing Information
J. J. Richlin donated these intaglio prints to the Washington State University Libraries in the 1970s and 1980s. Part of the collection was originally cataloged as Cage 415. In 2010 all of the items were gathered together and reprocessed by Cheryl Gunselman, Manuscripts Librarian.
Extent/Quantity Information
Number of Containers: 1
Linear Feet of Shelf Space: .25
Number of items: 64
Collection Description
The collection consists of 64 intaglio prints by artists Samuel Howitt and Robert Hills, each including a depiction of animals. The Howitt prints were published by Edward Orme of London; the Hills prints were published by the artist.
Collection Arrangement
The collection is arranged in two series:
Subjects
Animals in art
Zoological illustration
Prints (visual works)
Intaglio printing
Access
This collection is open and available for research use.
Preferred Citation
The suggested citation for the collection is:
[Item Description]
Howitt and Hills prints collection, 1798-1816
Manuscripts, Archives, and Special Collections
Washington State University Libraries
Pullman, WA
Related Materials
Other Samuel Howitt prints are available in bound volumes in the MASC rare book collection.