SC 4
Historic Ephemera Collection
1880-2011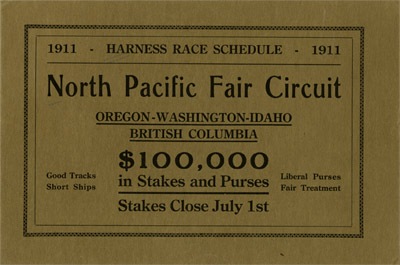 Cover, North Pacific Fair Circuit – Harness Race Schedule, 1911.
Definition
Ephemera are "materials, usually printed documents, created for a specific, limited purpose, and generally designed to be discarded after use." (from A Glossary of Archival and Records Terminology by Richard Pearce-Moses). Pamphlets, admission tickets, performance programs, and trade cards are a few examples of ephemera.
Collection Description
This collection includes ephemeral materials on a wide variety of subjects, acquired from the mid-20th century onward from various sources. They were initially assembled into this collection in 2010-2011, and additions are expected.
Arrangement
The collection is arranged alphabetically by subject. In some cases, unsorted or miscellaneous items are filed at the end of each subject grouping.
Related Materials
This collection includes only a small fraction of the ephemeral materials available in MASC. Many more items are included in manuscript collections, special collections, university archives, and the WSU Publications collection. Some ephemeral items held in MASC are individually cataloged, and can be found by searching the WSU Libraries' online catalog.
Access
This collection is open and available for research.
Languages
Most materials are in English.
Accruals
This is an open-ended collection; additions are expected.
Location Note (Masc Staff Use)
1-1
Items marked "oversize" are housed separately. "Oversize 1" items are in legal-size manuscript cases; "Oversize 2" in oversize flat boxes; "Oversize case" in map cases.