Back to Finding Aids
Washington State University Libraries
Manuscripts, Archives, and Special Collections
Pullman, WA 99164-5610 USA
(509) 335-6691
Inquiries
PC 145
Chet Ullin
Photographs of Celilo Falls, 1940s ca.
This collection was created as a visual teaching aid between February and August of 1948 by WSU's Margaret Marshall, and kept at the Universities Instructional Media Services (IMS). It was moved to the Washington State University (WSU) Libraries' Manuscripts, Archives, and Special Collections (MASC) from IMS's successor department, Media Materials and Reserves (MMR), on May 2nd, 2011 by Manuscripts Librarian Cheryl Gunselman. It was accessioned as UPC 2011-02. The collection was processed by University Archivist Mark O'English in May, 2011.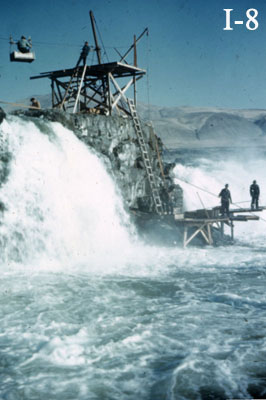 Number of Containers: 1
Linear feet of Shelf Space: .25
Number of Images: 29
BIOGRAPHICAL HISTORY
From 1941-1945 W. Chester "Chet" Ullin served as Visual Aids Director in the Seattle School District Office, and from 1945-1973 was Director of Instructional Materials for the Bremerton and Kitsap County Schools. An avid amateur photographer, Chet worked for the Washington State Fisheries Dept. and the West Coast Lumberman's Association in 1945, which is likely when the photographs in this collection were taken. Mr. Ullin passed away in Spring of 2002.
ARRANGEMENT AND DESCRIPTION
The images in this collection are maintained with their original order and numbering.
The collection consists of 29 glass 35mm slides. In addition to the 35mm slides, the collection contains a 5 page document from 1948 consisting of a title page, two pages in instructional guidelines, and two pages of brief descriptions of the slides.
The slides depict the Columbia River's Celilo Falls, Native Americans of the region, and fishing activities and facilities located at the Falls. The falls themselves were subsequently drowned on March 10, 1957 by the completion of The Dalles Dam.
The actual date of the photographs is still unclear. The 1948 date of the creation of the collection places that as the latest possible date, and color glass slides of this type are rare before 1936, providing us our likely earliest likely date. As the description of image I-17 references one of the women having "sons in the service," presumably these date from 1942-1945. Pending further identification, most likely they date from 1945 when Mr. Ullin worked for the Washington State Fisheries Department.
ACCESS
This collection is open and available for research use. Copyright restrictions may apply.
PREFERRED CITATION
The suggested citation for the collection is:
[Item Description]
Chet Ullin Photographs of Celilo Falls, 1940s ca. (PC 145)
Manuscripts, Archives, and Special Collections
Washington State University Libraries
Pullman, WA
Image
ID #
Description (from original notes, 1948)
I-1
Signboard telling about historical Celilo Falls. Here the Indians exercise their inherited fishing right guaranteed them under treaties made with the white men by their ancestors.
I-2
View from canyon wall on Oregon side showing Celilo Falls.
I-3
View of Celilo Falls -homes of Indians and Indians fishing.
I-4
Cable car transportation from shore to fishing islands.
I-5
Cable car transportation from shore to island.
I-6
Indians fishing from platforms at Celilo Falls. Supported by cables anchored near the lips of narrow canyons where fishing is best, the wooden platforms are lowered down the canyon walls within easy reach of the roaring torrent below.
I-7
Indian pulling in salmon with dip net. Note how net collapses.
I-8
Precarious fishing spot. Note cable car, falls and platform.
I-9
Platforms built out in river where Indians are dip-netting.
I-10
In September, when run is on, Indians from many tribes fish on bank. By concentrating their fishing during the months when the adult salmon are fighting their way up the river to spawn, the Indian fishermen are assured of large catches of good-sized fish.
I-11
Indians making own nets.
I-12
Close-up view of dip bag net.
I-13
Indian fishing with dip bag net. Note rope around Indian.
I-14
Indian pulls dip bag net out of water with salmon. Note net does not collapse.
I-15
Indian holding two heavy Chinook salmon which he will sell.
I-16
Fish buyer weighs salmon and pays Indian. Some Indians make a lot of money.
I-17
Indian woman near cable landing. Like many white women you know, she had sons in the service - three of them.
I-18
Indian boys enjoying themselves in cable car.
I-19
10 year old Indian boy fishes with his Dad's dip bag net -bashfully.
I-20
Indian boy catches nice Chinook salmon.
I-21
Indian boy proudly displaying salmon which he caught.
I-22
Note: this image was intended to be added to this set, but apparently never was, and so is not present. Indians' temporary summer home on island in Columbia River at Celilo Falls.
I-23
Children playing with their dog. This is a makeshift summer home on island.
I-24
Papooses wrapped in age-old manner.
I-25
Papoose drops off to sleep.
I-26
Woman on right canned 96 pints - pressure cooker. Here they are drying skin and backbone.
I-27
Woman picking bones from dried, shredded salmon.
I-28
Tommy Yallup - Celilo Indian attorney - well educated.
I-29
Chief Tommy Thompson - Celilo Falls. Note braids wrapped in flannel.
I-30
"Day's End" - Old fish wheel that revolved and caught fish; now outlawed.