Back to Finding Aids
Washington State University Libraries
Manuscripts, Archives, and Special Collections
Pullman, WA 99164-5610 USA
(509) 335-6691
Inquiries
PC 131
Pine Manor (Washington State College)
Scrapbook, 1938-1958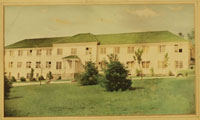 Pine Manor, from inside front cover
This collection was received as UPC 09-03 at WSU Libraries' Manuscripts, Archives, and Special Collections on September 23rd 2009 from Don and Martha Shaw of Mercer Island, WA. The collection was processed by University Archivist Mark O'English in November, 2009. Four additional photographs, a short text piece, and a CD of photographs were received from Robert Baldwin of Longview, WA and Don Moen of Yakima, WA in 2013 and placed in a folder beneath the scrapbook.
Number of Containers: 1 box
Number of Images: 425, plus several hundred clippings and limited ephemera
HISTORY
Pine Manor was a men's cooperative dormitory at Washington State College (later University), built in 1938 for $30,000 in National Youth Administration funds. The building housed 87 men, and was named after its knotty pine interiors. The house was closed by WSU in 1963, and the building renovated for the school's anthropology program. Located on the northeast corner of Spokane and Washington streets, it was torn down in 1998 after which the lot became a gravel parking lot.
ARRANGEMENT AND DESCRIPTION
The collection consists of photographs, clippings, and ephemera relating to Pine Manor. The 92 page scrapbook scrapbook is retained in its original wood plank binding and its original order; the cover is approximately 58 x 43 cm., and interior pages are only slightly smaller. Several loose items are in the scrapbook, including a two-page floorplan, several photographs and clippings, and a small banner. A folder beneath the scrapbook contains three added photographs and a 3-page "The History of Pine Manor" text piece.
ACCESS
This collection is open and available for research use. Copyright restrictions may apply. Due to the scrapbook's bindings and the condition of interior pages, both scanning and digital photography of most images from this book may be problematic.
PREFERED CITATION
The suggested citation for the collection is:
[Item Description]
Pine Manor Scrapbook, 1938-1958 (PC 131)
Manuscripts, Archives, and Special Collections
Washington State University Libraries
Pullman, WA


Selected images from album, and floor maps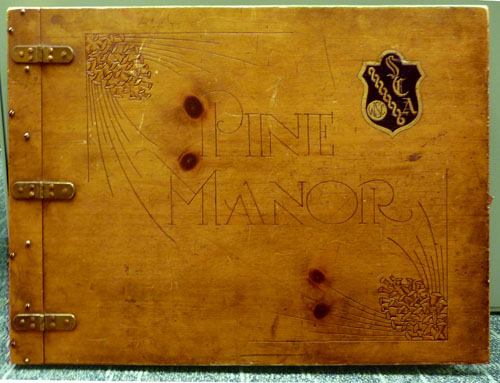 Album cover