Cage 753
Clyde Edward Pangborn
Aeronautical charts and papers, circa 1930s-1950s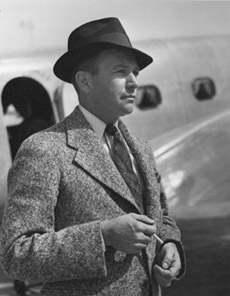 Acquisition And Processing Information
These materials were received subsequent to the processing of Cage 112, a larger collection of Clyde Pangborn's papers (after 1981, actual date unknown). Cheryl Gunselman processed these separately in 2010.
Extent/Quantity Information
Number of Containers: 9
Linear Feet of Shelf Space: 10.5
Biography
Note: This information is extracted from a more complete biography by Stephen Balzarini, available in the online guide for the Clyde Pangborn papers (Cage 112).
Clyde Edward Pangborn, son of Max Pangborn and Opal Lamb Pangborn, was born in Bridgeport, Washington. His birthdate is uncertain, with various documents indicating 1893, 1894, and 1896. His parents ranched on the upper Columbia River, but when Pangborn was two they separated and he remained with his mother. He grew up in the lumber camps of Idaho and graduated from St. Maries High School in 1914. He continued his education with extension courses in civil engineering from the University of Idaho; this training allowed him to secure a position as assistant to the Chief Engineer with the Bunker Hill and Sullivan Mining Company. America's entry into the First World War afforded Clyde the opportunity to fulfill his lifelong desire to learn to fly. He enlisted in the Aviation Section of the Signal Corps and was trained as a pilot. Rather than being sent overseas after completing his advanced flight training, Pangborn was assigned to Ellington Field in Houston, Texas, as an instructor. After his discharge from the Army Air Corps, he returned to the Pacific Northwest and performed exhibition flying for Northwest Aircraft Corporation based in Spokane, Washington.
With partner Hugh Herndon, Jr., Pangborn achieved one of aviation's important "firsts," successfully crossing the Pacific Ocean in 1931 in a Bellanca "Skyrocket" aircraft, the Miss Veedol.
When World War II broke out in Europe in late 1939, Pangborn joined the Royal Air Force and assisted in organizing the R. A. F. Ferry Command. He recruited pilots throughout the United States and Canada for the Ferry Command and Eagle Squadron. From 1941 through the end of the war in 1945, Pangborn served as Senior Captain, Royal Air Force Ferry Command during which time he made approximately 170 trans-ocean flights (crossing both the Atlantic and the Pacific).
Pangborn's aviation career spanned 40 years. He held pilot's license number 240 and was at the time of his death instrument-rated to fly single or multi-engine, land or sea planes. He had amassed more than 24,000 flying hours during his lifetime. He died in 1958.
Collection Description
All of these materials are related to Pangborn's work in aviation, much of it from his time with the R. A. F. Ferry Command during World War II. The collection consists primarily of aeronautical charts, many with Pangborn's annotations, along with a small quantity of technical manuals and other papers.
Collection Arrangement
The collection is arranged in two series:
Series 2. Aeronautical charts. This series includes charts that Pangborn organized into groups, and also maps that were received loose and unsorted. Pangborn's groupings and labels, where available, have been retained. The unsorted maps have been gathered into broad geographical categories.
Subjects
Pangborn, Clyde Edward, circa 1893-1958
Air pilots -- United States
Great Britain. Royal Air Force. Ferry Command -- History
Access
This collection is open and available for research use. Copyright restrictions may apply.
Preferred Citation
The suggested citation for the collection is:
[Item Description]
Clyde Edward Pangborn aeronautical charts and papers
Manuscripts, Archives, and Special Collections
Washington State University Libraries
Pullman, WA
Related Materials
Clyde Edward Pangborn papers (Cage 112): http://www.libraries.wsu.edu/masc/finders/cg112.htm
Languages
Materials are in English.