Cage 747
George A. Frykman
Papers, 1906-1994 (bulk 1950-1990)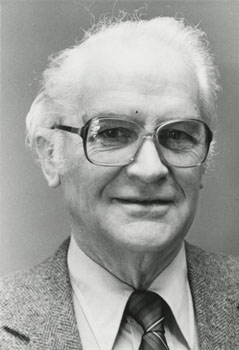 George Frykman, 1985 (from the Hilltopics Photograph Collection, PC 123)
Acquisition And Processing Information
George Frykman donated his papers to the Washington State University Libraries in 1991 (MS 1991-42), and additional related papers were transferred by the WSU History Department in the same year (UA 1991-08). These two accessions were combined and processed in 2010 by WSU Ph.D. candidate Lee Ann Powell.
Extent/Quantity Information
Number of Containers: 13
Linear Feet of Shelf Space: 6.25
Biography
George Frykman was born April 30, 1917 in San Francisco, California. In 1935 he graduated from Sequoia High School in Redwood City, CA; he then attended San Jose State College and Stanford University (1935-1941). From 1941 to 1942 he taught English and social studies at Kerman High School in Kerman, CA. He served in the U.S. Army from 1942 to 1946, achieving the rank of Captain in 1945, and was employed by the Army as a photographer, instructor of photography, and public relations officer. Frykman received a master's degree in history from Stanford University in 1947 and subsequently completed his dissertation, "Indigenous Sectionalism in American Historiography, 1877-1917," earning his Ph.D. in 1955.
Frykman joined the Washington State College history faculty in 1950. Soon after this he served for two years as the chief of the Social Science Division of the college library. Between 1960 and 1964, he worked as assistant to the Dean of the Graduate School in addition to his teaching duties. He was elected to the Faculty Senate, and served as its president. Frykman served on other important university committees, and on nearly every committee of the History Department. He also acted as the faculty advisor for Phi Alpha Theta (history honor society), WSU Chapter Gamma Psi.
Frykman was an active participant in regional history associations and programs, including membership in the Association of Washington Historians and the Council in Regional Research. He participated in many professional conferences, helping to organize several Pacific Northwest History Conferences.
Frykman devoted much of his professional energy to the history of the Pacific Northwest, and, more specifically, to Washington State University. In 1985, the WSU Press published his book about Edmond S. Meany, Seattle's Historian and Promoter: the life of Edmond Stephen Meany. That same year Frykman completed an oral history project on the WSU College of Veterinary Medicine, and was selected as WSU's Centennial Historian for the 1990 anniversary celebration. His 1990 history of the university, Creating the People's University: Washington State University, 1890-1990, was published as a result of this centennial appointment.
Collection Description
The collection includes professional papers reflecting Frykman's career and activities as a faculty member at Washington State University, particularly in the Department of History, the American Studies Program, Faculty Senate, and Phi Alpha Theta, and to his participation in professional and community associations. It consists of correspondence, reports, printed ephemera, photographs, and memorabilia.
Collection Arrangement
The collection is arranged in 11 series. The materials were left in their original order with the exception of a few instances where the processor determined that rearrangement was necessary to facilitate access.
Series List
Access
This collection is open and available for research use. Copyright restrictions apply.
Subjects
Frykman, George A., 1917- -- Archives
Washington State University -- History -- Sources
Preferred Citation
The suggested citation for the collection is:
[Item Description]
George A. Frykman papers, 1906-1994
Manuscripts, Archives, and Special Collections
Washington State University Libraries
Pullman, WA
Languages
Materials are in English.