Cage 737
Frank and Irene Potter
Papers, 1915-1990
Acquisition And Processing Information
These materials were donated to the Washington State University Libraries with the papers of Ruth Slonim (MS 2007-10). Ph.D. candidate Katy Fry processed the collection in 2009.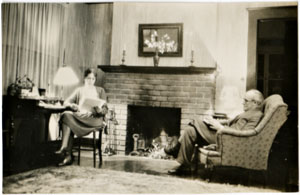 Irene and Frank Potter in their Pullman, Washington home, probably in the 1930s.
Extent/Quantity Information
Number of Containers: 4
Linear Feet of Shelf Space: 2
Biography
Frank Fraser Potter (1879-1959) was a member of the faculty at Washington State College from 1912 to 1949. He was WSC's first professor of philosophy. He received his Ph.D. from the University of Michigan, and taught there and at Transylvania University prior to accepting a position at WSC. Upon his retirement from WSC, he was named Professor Emeritus.
Irene Eleanora Michet (1889-1971) received her A.B. from the University of Illinois in 1920. After teaching high school English in Illinois for several years, she joined the faculty of the WSC English Department in 1927. When she and Frank Potter were married in 1929, she resigned from her teaching position.
Both of the Potters were actively involved in the campus community, and for over 25 years they hosted regular Friday afternoon gatherings at their home for students they encouraged to pursue advanced, competitive scholarly opportunities, particularly Rhodes Scholarships; ten of these students became Rhodes Scholars. The Potters also hosted regular Wednesday afternoon open houses for men and women students, and faculty members.
The Potters bequeathed their Pullman home to Washington State University, and endowed the Frank and Irene Potter Memorial Scholarship. The Frank Fraser Potter Memorial Lecture, an annual event, was established shortly after Frank Potter's death through an anonymous donation from one of his former students.
Collection Description
This collection consists of materials related to Frank and Irene Potter which came into the possession of Ruth Slonim, their colleague and friend, after Irene Potter's death. It includes correspondence received by Irene Potter, mostly from 1969 to 1971, a small quantity of Frank Potter's notes related to his teaching of philosophy, a few miscellaneous items, and a folder of materials about the Potters collected by Slonim.
Collection Arrangement
The collection is arranged in two series:
Subjects
Potter, Frank Fraser, 1879-1959 -- Archives
Potter, Irene Michet, 1889-1971 -- Archives
Washington State University -- Faculty -- Archives
College teaching -- Washington (State)
Access
This collection is open and available for research use. Copyright restrictions apply.
Preferred Citation
The suggested citation for the collection is:
[Item Description]
Frank and Irene Potter papers, 1915-1990
Manuscripts, Archives, and Special Collections
Washington State University Libraries
Pullman, WA
Related Materials
Frank Fraser Potter Papers, 1915-1941 (Cage 500)
Sources Consulted
Bierbower, June. "'A Man, Not a System.'" Washington State Review II, no. 4 (Summer 1959): 21-25.
Bell, Aldon Duane. "Finding the Best Candidates for Rhodes Scholarships" (undated clipping, possibly 1959, from The American Oxonian).
Languages
Materials are in English.
Condition Note
Some documents in this collection were damaged by water and/or mold prior to being donated to Washington State University. These items were photocopied, and the originals discarded.