Cage 735
Sigmond and Lena Slonim
Papers, 1902-1981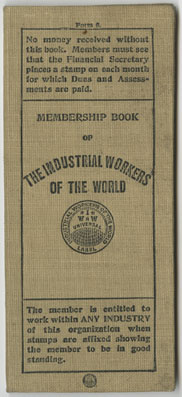 Sigmond Slonim's membership book, Industrial Workers of the World (IWW), 1906-1907 (box 1, folder 9).
Acquisition And Processing Information
This collection was received with the papers of Ruth Slonim, daughter of Sigmond and Lena Slonim, donated to the Washington State University Libraries by her estate (MS 2007-10).
Extent/Quantity Information
Number of Containers: 3
Linear Feet of Shelf Space: 1.5
Biography/Organizational History
Sigmond Slonim was born in Russia in 1878 and died in Duluth, Minnesota in 1981. He came to America in 1901 where he finished his education, culminating in a law degree from St. Paul College of Law in 1913. He practiced law until his retirement in 1957. He worked most often for the "underdog," including his efforts on behalf of children's welfare. He was active in the Farmer-Labor Association and even ran for office in that party. He was one of the founding members of the Saturday Lunch Club in Duluth, which met weekly to discuss issues of local, national, and international importance. He was also very involved in civic issues, including urban development and city planning. Slonim was a member of the Industrial Workers of the World (IWW) and the Socialist Party of America.
Little biographical information is readily available for Lena Epstein Slonim (1885-1962), Sigmond Slonim's wife. She was also born in Russia, and as a young girl moved with her family to Minnesota. She earned a Bachelor of Philosophy degree from the University of Chicago in 1906; she also held a teaching certificate.
Collection Description
This collection consists of personal and professional papers of Sigmond and Lena Slonim which were kept by their daughter, Ruth Slonim, and donated to the Washington State University Libraries along with her own papers after her death.
Most of the materials are related to Sigmond Slonim. The personal correspondence includes incoming cards and letters, mainly from friends and family members. The professional correspondence includes both incoming and outgoing items, mostly related to Sigmond Slonim's law practice and political activism. The collection also includes other materials related to his political interests and activities, his law practice (two conscientious objector case files), and family finances. The "Sigmond Slonim writings" sequence consists primarily of autobiographical sketches and essays. Slonim described his early life and his family's experiences in Lithuania, including observations about political and social conditions for Jews in Russia, his travels through Europe prior to emigrating to the United States, and his life and involvement in progressive political causes after settling in Duluth, MN.
Collection Arrangement
The materials are arranged in a single series.
Subjects
Slonim, Sigmond -- Archives
Slonim, Lena Epstein -- Archives
Jews, Russian -- United States -- History
Immigrants -- United States
Access
This collection is open and available for research use. Copyright restrictions may apply.
Preferred Citation
The suggested citation for the collection is:
[Item Description]
Sigmond and Lena Slonim papers, 1902-1981
Manuscripts, Archives, and Special Collections
Washington State University Libraries
Pullman, WA
Related Materials
Ruth Slonim papers (Cage 733): http://www.libraries.wsu.edu/masc/finders/cg733.htm
Languages
Most items are in English; a few are in Russian, French, and German.