SC 5
Propaganda Poster Collection
1914-1996 (bulk 1914-1945)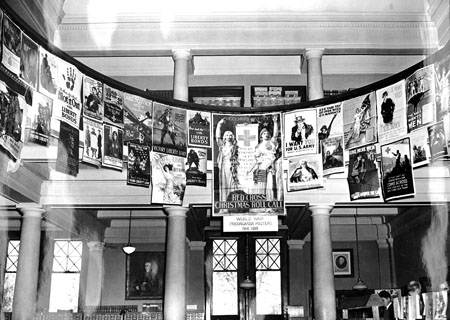 Photograph of some of these posters on display in the WSC Library (Bryan Hall), circa 1940s. From the WSU Scrapbooks Collection (PC 5).
Acquisition And Processing Information
The Washington State University Libraries acquired these posters from various sources during the 20th century. Approximately 300 posters were initially assembled into this collection in 2009, and processed by Amy Sabourin. In 2013, a group of approximately 200 more posters were processed and integrated into the collection by Morgan Clendenning.
Extent/Quantity Information
Number of Items: 517
Number of Oversize Drawers: 8
Finding Aid Author
Amy Sabourin created the initial finding aid for this collection in 2009, and Morgan Clendenning revised and expanded it in 2013.
Collection Description
This collection contains 517 posters, most issued by governments to influence behavior and public morale. Most items are from the period beginning with the start of World War I and concluding with the end of World War II. Prior to the advent of broadcast radio and television, governments looked to other media to communicate information to their citizens. One of the most eye-catching formats is the propaganda poster, the use of which peaked during World War I and remained pervasive through World War II. The U.S. government alone produced an estimated 20,000,000 copies of more than 2,500 distinct posters during the First World War. Through these "weapons on the wall," governments persuaded their citizens to participate in a variety of patriotic functions, from pur¬chasing war bonds to conserving scarce resources. These posters also strengthened public support for the wars by providing "message control" about the government's allies and enemies.
The posters found here were collected by the Washington State University Libraries, dating back into the 1910s. They became part of the College's War Library, a collection established in 1937-1938, consisting of rare books, pamphlets, posters, and other ephemera. The collection continued to grow through donations from various sources. In 2009, approximately 300 posters were assembled into this collection. In 2013, approximately 200 more posters were added to the collection. Dating largely from World War II and post-World War II, most of the added posters are in French and are directed toward Parisians, announcing war updates and requesting public action. The additions also include United States World War I and World War II posters, and Russian post-World War I posters.
Note about titles: italicized poster titles were transcribed from the item; bracketed titles were created by the collection processor.
Note about English translations: these were supplied by the collection processor, Amy Sabourin.
Almost all of the posters from this collection have been digitized and can be found online in the Propaganda Posters Digital Collection.
Collection Arrangement
The collection is arranged in six series; three of these are further divided into subseries.
Series List
Subjects
War posters
World War, 1914-1918 -- Posters
World War, 1914-1918 -- Posters -- United States
World War, 1914-1918 -- Posters -- Europe
World War, 1939-1945 -- Posters
World War, 1939-1945 -- Posters -- United States
World War, 1939-1945 -- Posters -- Europe
World War, 1914-1918 -- Propaganda
World War, 1939-1945 -- Propaganda
American Library Association. -- War Library Service
Access
This collection is open and available for research use. Copyright restrictions may apply.
A digital collection containing all items except number 94 (which was too large to scan) was created in January of 2013. This can be viewed as our Propaganda Poster Digital Collection: http://content.libraries.wsu.edu/cdm/landingpage/collection/propaganda.
Preferred Citation
The suggested citation for the collection is:
[Item Description]
Propaganda Poster Collection
Manuscripts, Archives, and Special Collections
Washington State University Libraries
Pullman, WA
Location Note (Masc Staff Use)
With the exception of one rolled item, these materials are located in map cases. One of the untitled Russian posters (sc005f03-012-11) is rolled, and stored at: MASC basement, 3:33.
Languages
Most items are in English; some are in Russian, Spanish, Polish, Italian, and French.