SC 5
Propaganda Poster Collection
1914-1996 (bulk 1914-1945)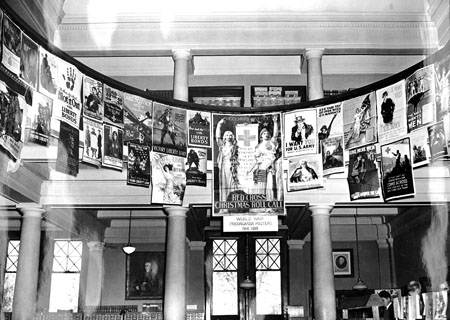 Photograph of some of these posters on display in the WSC Library (Bryan Hall), circa 1940s. From the WSU Scrapbooks Collection (PC 5).
Acquisition And Processing Information
The Washington State University Libraries acquired these posters from various sources during the 20th century, and they were assembled into this collection in 2009. Amy Sabourin processed the collection under the supervision of Cheryl Gunselman, Manuscripts Librarian.
Extent/Quantity Information
Number of Items: 301
Number of Oversize Drawers: 6
Collection Description
This collection consists of 301 items, primarily propaganda posters produced by government and relief agencies during World War I and World War II. In addition to the posters, the collection also includes a small amount of other printed ephemera.
Note about titles: italicized poster titles were transcribed from the item; bracketed titles were created by the collection processor.
Note about English translations: these were supplied by the collection processor, Amy Sabourin.
Almost all of the posters from this collection have been digitized and can be found online in the Propaganda Posters Digital Collection.
Collection Arrangement
The collection is arranged in four series; three of these are further divided into subseries.
Series List
Subjects
War posters
World War, 1914-1918 -- Posters
World War, 1914-1918 -- Posters -- United States
World War, 1914-1918 -- Posters -- Europe
World War, 1939-1945 -- Posters
World War, 1939-1945 -- Posters -- United States
World War, 1939-1945 -- Posters -- Europe
World War, 1914-1918 -- Propaganda
World War, 1939-1945 -- Propaganda
American Library Association. -- War Library Service
Access
This collection is open and available for research use. Copyright restrictions may apply.
A digital collection containing all items except number 94 (which was too large to scan) was created in January of 2013. This can be viewed as our Propaganda Poster Digital Collection: http://content.wsulibs.wsu.edu/cdm/landingpage/collection/propaganda.
Preferred Citation
The suggested citation for the collection is:
[Item Description]
Propaganda Poster Collection, 1914-1996
Manuscripts, Archives, and Special Collections
Washington State University Libraries
Pullman, WA
Location Note (Masc Staff Use)
Map case.
Languages
Most items are in English; some are in Russian, Spanish, Polish, Italian, and French.