Back to Finding Aids
Washington State University Libraries
Manuscripts, Archives, and Special Collections
Pullman, WA 99164-5610 USA
(509) 335-6691
Inquiries
Archives 277
Racism Workshop Papers and Recordings
1970-1971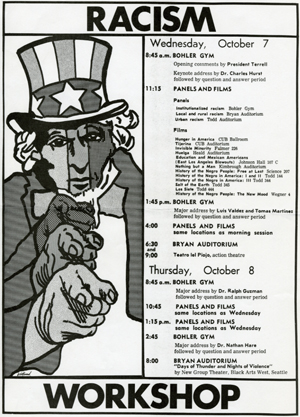 ACQUISITION AND PROCESSING INFORMATION
The print materials in this collection were transferred to MASC in 1980 with WSU News Bureau press releases (UA 1980-07, now processed as Archives 65), and separated from those on July 10, 1981 and retained as UA1981-18. The collection was processed by Michael Cardinal and University Archivist Mark O'English in October of 2009. In 2013, six reel-to-reel tapes of uncertain provenance (they were received in the Archives prior to 2008, but apparently never accessioned) were added to the collection.
EXTENT/QUANTITY INFORMATION
Number of containers: 2 boxes
Linear feet of shelf space: .5
ORGANIZATIONAL HISTORY
In May, 1970 at Washington State University, students led demonstrations against U.S. involvement in the Vietnam War, and challenged university officials to recognize institutional racism as a fundamental problem with the university system. The Black Student Union (BSU), established at WSU in the fall of 1968, spearheaded May protests against racism and, in conjunction with several other radical organizations, presented President Glenn Terrell with eleven demands. Terrell initially rejected the demands which had called for, among other things, a mandatory ten day workshop in the fall to heighten faculty awareness of racism. 3,000 students protested that decision on May 21, 1970. On May 28, 1970, the Resident Instructional Staff (RIS) approved of two racism workshops, one for the fall of 1970 and one for the Spring of 1971. To plan the event, the RIS created the Minority Student Committee on Racism Workshops. To run the committee, Terrell appointed four minority students, Sarah Dennis, Ron Taplin, Rebecca Hobbs, and Rudy Ryser. The students planned to host prominent movement speakers, present movies, and make available printed handouts concerning racism. Although leaders of the BSU and MEChA (a Chicano students' organization) denounced the racism workshops as manifest symbols of university paternalism, the first racism workshop took place on October 7-8, 1970 and attracted 20,000 people. The second was held on March 9-10, 1971, and had a much smaller crowd.
COLLECTION DESCRIPTION & ARRANGEMENT
This small collection has been broken into two short series, Print Materials and Reel-to-Reel Audio tapes. Series are organized by origin and type of material, and then filed in a loosely chronological order, with photographs at the end of the print materials.
ACCESS
This collection is open and available for research use.
PREFERRED CITATION
The suggested citation for the collection is:

[Item Description]
Racism Workshop Papers and Recordings, 1970-1971 (UA 277)
Manuscripts, Archives, and Special Collections
Washington State University Libraries
Pullman, WA
RELATED MATERIALS
MASC holds a number of items in different collections relating to the Racism Workshops. These collections can be identified by searching MASC's site for "Racism Workshop." Original posters for each workshop can be found under Resident Instruction Staff (WSU Pubs 76 o.s.) in the oversized portion of the WSU Publications collection.
CONTAINER LIST
Box
Folder
Description
Print Materials
1
1
Minutes of the Resident Instructional Staff. May 28, 1970 meeting at which racism workshops were approved.
2
WSU News Service, Sept. 17, 1970 - Oct. 8, 1970. Announcements leading up to the Racism Workshop, summaries of Racism Workshop events.
3
Original Racism Workshop folder, Oct. 7 - 8, 1970. Contains: Black Men in the Struggle (brochure); Integrated School Books; Racism Workshop program; The Chicano (printed material); Racism Workshop schedule for March 9-10, 1971; Campus map (circa 1970); Pasco, Washington (pamphlet).
4
Underground Newspapers, Oct. 15, 1970 - Oct. 23, 1970, detailing the WSU Racism Workshop.
5
Memoranda, Sept. 28, 1970 - March 9, 1971. Memoranda concerning WSU Racism Workshops, WSU press conference agenda, Oct. 15, 1970.
6
Correspondence, Oct. 15, 1970 - March 16, 1971. Correspondence of J. Reginald Miller, Director of University Relations, press conference agenda, Oct. 15, 1970.
7
Miscellany. Racism Workshop poster; drafted announcement to the WSU community (undated, no author); summary of conference call and Reginald Miller's plan for publicizing the racism workshop (undated, no author); review of the Oct. 7 - 8, 1970 racism workshop (undated, no author); handwritten notes concerning the racism workshop; Black Studies 380 syllabus, Fall 1969.
8
Photographs. Unlabeled, undated. Apparently speakers and crowds at Racism Workshop. 5 black & white images.
Reel-to-reel Audio Tapes
2
9
Dr. Charles Hurst (President of Malcolm X Community College, Chicago). Intro & remarks by Dr. Glenn Terrell. Speech by Hurst. Remarks by Dr. Terrell about stay of injunction. 1 side, 50 min. October 7, 1970.
10
Tomas Martinez & Luis Valdez. 2 sides. October 7, 1970.
11
Nathan Hare (publisher, The Black Scholar). 1 side, 45 min. October 8, 1970.
12
Harry E. Edwards, Olympic Project for Human Rights. 2 sides. March 9, 1971.
13
Sally Timmel, Community Change Inc. 1 side. March 9, 1971.
14
Gracia Molina de Pick, Third World College, University of California at San Diego. Incomplete. 2 sides. March 10, 1971