Cage 745
Geoffrey Wells (Geoffrey West)
Papers, 1928-1942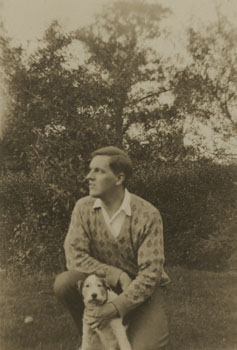 Photograph of Geoffrey Wells (Geoffrey West), 1931
Acquisition And Processing Information
This collection was purchased in 1984 from Serendipity Books. It was processed by Cheryl Gunselman in 2009.
Extent/Quantity Information
Number of Containers: 1
Linear Feet of Shelf Space: .25
Biography
Geoffrey Wells, who wrote under the name Geoffrey West, was an English novelist, literary critic and biographer. His best-known work, H.G. Wells: Sketch for a Portrait, was published in 1930.
Collection Description
The collection consists of correspondence from Geoffrey Wells to the American essayist, critic, and naturalist Henry Chester Tracy. Wells wrote on a variety of subjects in these letters, but often focused on literary subjects. The correspondence begins in 1927 with a letter to Tracy as part of his research for his biography of Annie Besant; later letters mention his other writing projects, and Tracy's comments on them, and Wells's responses to many of Tracy's writings. Other topics include the review and promotion of Tracy's books in England, and matters concerning many of their acquaintances in literary and publishing circles, including Middleton Murry, Leonard Woolf, Desmond McCarthy, A.R. Orage, Stanley Unwin, Christopher and F. V. Morley, and Fredric Warburg. He also discussed politics and the impending world war, and, occasionally, personal matters.
Collection Arrangement
The items are arranged in a single chronological sequence.
Subjects
West, Geoffrey -- Correspondence
Authors -- English -- 20th century -- Archives
Publishers and publishing -- England
Publishers and publishing -- United States
Tracy, Henry Chester, b. 1876 -- Correspondence
Access
This collection is open and available for research use. Copyright restrictions apply.
Preferred Citation
The suggested citation for the collection is:
[Item Description]
Geoffrey Wells papers, 1928-1942
Manuscripts, Archives, and Special Collections
Washington State University Libraries
Pullman, WA
Languages
Documents are in English.