Cage 723
Edward N. Fuller
Newspaper Collection, 1882-1888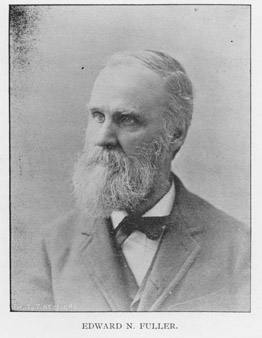 Acquisition and Processing Information
This newspaper collection was given to the WSU Libraries by the Washington State Historical Society, circa 1980, as a single bound volume. All of the newspapers were removed from the binding as a preservation measure, due to their fragility, and the contents were processed in 2008 by Cheryl Gunselman.
Extent/Quantity Information
Number of Containers: 2
Linear Feet of Shelf Space: 2
Collection Description
These materials were collected by newspaper editor and publisher Edward N. Fuller (1824-1904), probably in his role as Press Historian for the Washington Press Association. After arriving in the Washington Territory in 1882, Fuller attempted to collect and preserve "all of the first numbers of papers published possible to obtain..." (Fuller 1891). Political parties and special interest groups in Washington Territory are well represented. In addition to newspapers published in Washington during the territorial period, this collection includes papers from other parts of the Pacific Northwest, and also from England and Japan. A few are identified as reprints. The collection includes many rare titles. Where information about library holdings of individual titles could be found, it was added to the collection and filed with the item.
Collection Arrangement
The items are arranged in the same order in which they were bound.
Subject Headings
Washington (State) -- Newspapers
Washington (State) -- Politics and government
Washington (State) -- History, Local
Political parties -- Washington (State) -- History
Oregon -- Newspapers
Alaska -- Newspapers
California -- Newspapers
Japan -- Newspapers
Washington Territorial Imprints
Pacific Northwest History Collection
Access
This collection is open and available for research use. Some items are extremely fragile and/or damaged; researchers may be asked to use photocopies rather than the originals, and some fragile items may not be reproduced.
Copyright restrictions may apply.
Sources Used
The collection description includes information from:
Fuller, Edward N. "Historical Newspaper Sketches." In Annual Proceedings of the Washington Press Association for the years 1887, '88, '89, '90. Hoquiam: Washington Press Association, 1891, pages 79-92.
Meany, Edmond S. Newspapers of Washington Territory. Seattle: University of Washington Press, 1923 (for general information about specific Washington Territory titles).
Preferred Citation
The suggested citation for the collection is:
[Item Description]
Edward N. Fuller Newspaper Collection, 1882-1888
Manuscripts, Archives, and Special Collections
Washington State University Libraries
Pullman, WA
Related Materials
Newspapers are included in many different collections in MASC. The most substantial of these is the Historical Newspaper Collection (online guide available: http://www.libraries.wsu.edu/masc/finders/sc002.htm).
Languages
These documents are in English.