Cage 5015
French prayer book
Circa 1770-1800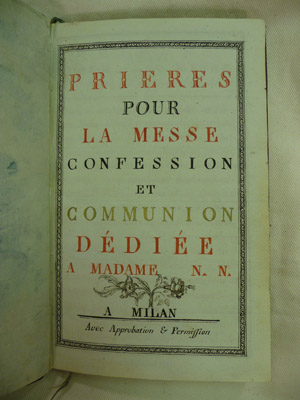 Title Page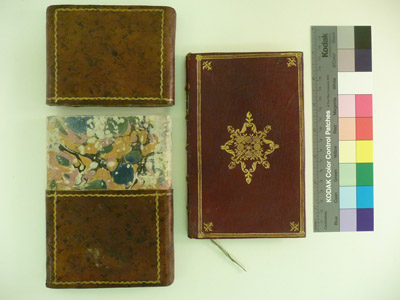 Front cover and open case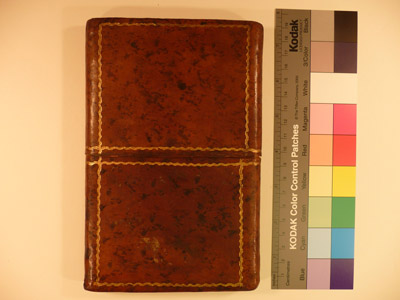 Case
Acquisition And Processing Information
This item was acquired by the Washington State University Libraries circa 1949 (accession number 655496). It was transferred from the rare book collection to the manuscript collection and recataloged in 2011.
Extent/Quantity Information
Number of containers: 1 folder (1 bound volume)
Linear feet of shelf space: .1
Collection Description
This collection consists of a single item: a bound manuscript, "Prieres pour la Messe, Confession, et Communion" (Prayers for the Mass, Confession, and Communion). The 78-leaf manuscript, produced in Milan, is dedicated to "Madame N. N." All of the text is in French, with calligraphy and ornamentation in red, black, and gold ink by Gregoire (Gregorio) Pansechi.
This small octavo volume has a contemporary full maroon calf binding with triple gilt fillet borders enclosing a floral device. All edges are gilt, and the volume is enclosed in a contemporary mottled calf pull-off case.
Little provenance information is available, but a listing for this volume appears in the 1881 catalog of the collection of the Stinnecke Maryland Episcopal Library: A Catalogue of the Liturgies, Liturgical Works, Books of Private Devotion, Hymnals and Collections of Hymns, in the Stinnecke Maryland Episcopal Library. William Whittingham, Bishop of Maryland, donated the collection to the diocese in 1879. As of 2011, a remnant of this library is in the collection of the General Theological Seminary (NY).
Subjects
Catholic Church -- Prayer books and devotions
Prayers
Devotional literature, French -- Early works to 1800
Italy -- Religious life and customs
Prayer books -- Italy
Calligraphy -- Italy -- 18th century -- Specimens
Access
This collection is open and available for research use.
Preferred Citation
Please indicate the collection title and/or the item title, along with repository information:
French prayer book, circa 1770-1800 [collection title]
"Prieres pour la Messe, Confession, et Communion" [item title]
Manuscripts, Archives, and Special Collections
Washington State University Libraries
Pullman, WA
Languages
This document is in French.