Cage 4806
Space Shuttle Challenger mission STS-7 checklist
1983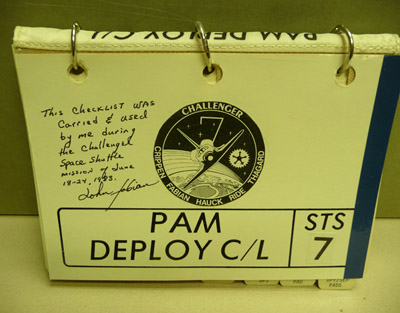 Acquisition And Processing Information
John Fabian donated this item to the Washington State University Libraries in 1985.
Extent/Quantity Information
Number of containers: 1 folder
Linear feet of shelf space: .05
Biographical Note
John Fabian, a 1962 graduate from Washington State University with a B.S. in Mechanical Engineering, earned a master's degree in Aerospace Engineering from the Air Force Institute of Technology (1964) and a Ph.D. in Aeronautics and Astronautics from the University of Washington (1972). After serving as a member of the faculty at the U.S. Air Force Academy, he joined NASA's space shuttle program in 1978. He made his first space flight in 1983 as a member of the Space Shuttle Challenger crew (mission STS-7, June 18-24, 1983).
Collection Description
This collection consists of a single item: a mission checklist used by astronauts John Fabian and Sally Ride during deployment of two telecommunications satellites, the Anik and the Palapa, during a mission of the Space Shuttle Challenger in 1983. It is a 3-ring binder divided into several sections. Many pages include marks and annotations made by the astronauts during the mission. The cover is inscribed by Fabian.
Subjects
Challenger (Spacecraft)
Space shuttles
Space vehicles
Manned space flight
Checklists -- specimens
Access
This collection is open and available for research use. Copyright restrictions may apply.
Preferred Citation
The suggested citation for the collection is:
Space Shuttle Challenger mission STS-7 checklist, 1983
Manuscripts, Archives, and Special Collections
Washington State University Libraries
Pullman, WA
Languages
This document is in English.