Cage 118
Homer M. Hill
Papers, 1877-1934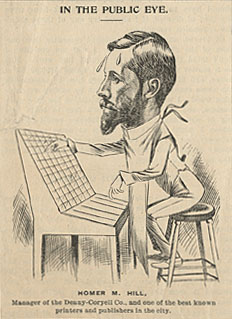 Caricature of Homer M. Hill published in The Argus, a Seattle newspaper.
Acquisition And Processing Information
Mrs. Libby Hoag donated the papers of Homer M. Hill to the Washington State University Libraries in the 1940s (MS 70-1395). The collection was processed by Terry Abraham in 1973, and additional processing was done by Cheryl Gunselman in 2010.
Extent/Quantity Information
Number of Containers: 3
Linear Feet of Shelf Space: 1.5
Biography
Homer M. Hill was born in Senecaville, Ohio, November 28, 1855. He graduated from Oberlin College in 1882 and became a teacher in the Minneapolis Academy. The following year he entered the newspaper business as Mandan correspondent of the Bismarck Tribune and subsequently business manager of the Brainerd (MN) Tribune. In April of 1884 he purchased an interest in the Helena (MT) Independent. In May of that year he married Carrie M. Lovell of Nevada, Iowa. The following year he sold out his Helena interests and moved to Seattle where be began publishing the True Tone and subsequently the Daily Press (combining the Evening Call and the Evening Chronicle which he had purchased). He maintained the Press until August, 1889 when he sold it to Hunt and Bailey.
In 1892 he, with two partners, purchased the Morning Telegraph. It was the Telegraph which installed the first Mergenthaler typesetting machines west of the Rockies in 1893. In addition, Hill was President of the Washington State Press Association, 1893-1894.
His political and civic activities were numerous and varied. He was a Seattle city councilman, 1898-1900, a deputy county commissioner, executive secretary of the Rainier Heights Improvement Club and the Federated Improvement Clubs of Seattle, and in 1910 he helped organize the Taxpayers' League of Seattle and served as its executive secretary. Hill died in January of 1935; his obituary appeared in the Seattle Times (a successor to the Daily Press) January 23, 1935; 13:3.
Collection Description
This collection consists of papers and photographs related to Homer Hill's business, civic, and political activities. Sone notable items are a telegram from C. S. Voorhees announcing passage of statehood for Washington, a map of "proposed saloon limits" for the City of Seattle; correspondence and ephemera related to the Mergenthaler typesetting machine Hill acquired, membership and mailing lists for civic clubs and other organizations in Washington, and photographs of Helena, MT and Seattle, WA from the late nineteenth and early twentieth centuries.
Collection Arrangement
The collection is arranged in three series:
Series 2. Papers, 1877-1934 and undated. This series consists of correspondence, ephemera, clippings, notebooks, manuscript notes and drafts, legal documents, minute books, organization membership lists, by-laws, resolutions, reports, and miscellaneous items. The series is divided into four sequences: personal papers, newspaper records, improvement association papers, and Taxpayers' League of Seattle records.
Related Materials
Selected images and documents from this collection have been digitized and can be found online in the  Homer M. Hill Digital Image Collection.
Subjects
Federated Improvement Clubs of Seattle (Wash.)
Newspaper publishing -- Washington (State) -- Seattle -- History -- Sources
Seattle (Wash.) -- Politics and government
Seattle (Wash.) -- History -- Sources
Taxpayers' League of Seattle
Access
This collection is open and available for research use. Copyright restrictions may apply.
Preferred Citation
The suggested citation for the collection is:
[Item Description]
Homer M. Hill papers, 1877-1934
Manuscripts, Archives, and Special Collections
Washington State University Libraries
Pullman, WA
Location Note (MASC Staff Use)
The oversize item (folder 37) is in boxed oversize.
Languages
Materials are in English.